Planet Fitness reported another quarter of significant quarterly revenue declines and indicated club usage in January was still only about 70 percent of prior-year workouts. On the bright side, January marked the fitness club's first month of overall net member growth since before the pandemic.
Total revenue in the quarter was $133.8 million, down $57.7 million, or 30.1 percent compared to the prior year. Of the $57.7 million decline, $49 million, or 85 percent, was attributable to lower equipment revenue due to temporary relief from obligations provided to franchisees.
In May of last year, Planet Fitness provided franchisees with relief in the form of a 12-month extension on all development requirements and an 18-month extension on their replacement equipment commitments. The remainder of the year-over-year decline in total revenue was primarily due to the impact from temporary store closures due to COVID-19 and lower membership levels.
For the fourth quarter, system-wide same-store sales were down 10.6 percent. Same-store sales at franchised-owned gyms were down 10.6 percent while corporate-owned gyms were down 11.7 percent. The 10.6 percent decline in system-wide same-store sales was largely due to a decline in membership levels.
System-wide, same-store sales fell 5.6 percent in the third quarter. With same-store sales tied to year-over-year membership levels, comps are expected to decline further in Q1 compared with Q4's rate. Planet Fitness will not report comps in the second quarter since no year-ago comparison is available given the extensive location closures in the year-ago period. Improved comps are expected in the third quarter when Planet Fitness cycles the prior year's most significant membership declines.
Before the pandemic's arrival in March, Planet Fitness had reported 53 consecutive quarters of positive system-wide same-store sales growth. The quarter's net income was $8.7 million, or 11 cents per share, down from $29.7 million, or 36 cents, a year ago. Adjusted net income fell 61.6 percent to $15.1 million, or 17 cents, from $39.2 million, or 44 cents, a year ago. Adjusted EBITDA slumped 33.3 percent to $51.1 million.
For the year, revenue declined 41.0 percent to $406.6 million. Reported net income was a loss of $15.0 million, or 19 cents per share, compared to income of $117.7 million, or $1.41, in the prior year. Adjusted net income decreased 97.9 percent to $3.1 million, or 4 cents, and adjusted EBITDA was down 57.3 percent to $120.4 million.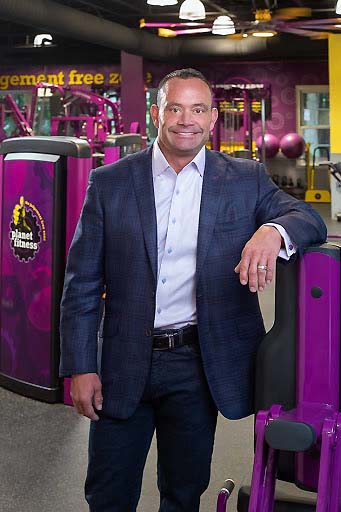 New Member Joins Show Recovery With Marketing's Return
On a conference call with analysts, Chris Rondeau, CEO, pictured right, said that in hindsight, the biggest challenge facing Planet Fitness during the pandemic wasn't cancellations, as cancellations over 2020 were essentially flat to 2019 levels on a per-store basis.
The primary challenge was a lack of gross new member joins as sales acquisition marketing was paused for the first time, including during certain key sign-up periods last spring and early summer. National marketing resumed in September, followed by two more campaigns in October and November in addition to the flash sale in December.
"Overall, we're pleased with the results, especially given the holiday season, a slower time in terms of sign-ups for the industry," said Rondeau.
Planet Fitness ended 2020 with 13.5 million members, down 6.3 percent compared with 14.4 million members at the end of 2019.
Building on its sponsorship of Times Square's New Year's Eve celebration, January promotions lifted overall membership to 13.8 million, up from approximately 13.5 million members at the end of December, the first month of overall membership growth since February 2020.
"The recent uptick in membership is very encouraging and reinforces our belief that people want to return to brick & mortar fitness," said Rondeau. "In fact, to date, 5 percent of our members who canceled during COVID-19 have already rejoined, and 28 percent of joins overall since COVID-19 are prior Planet Fitness members."
He said the 70 percent usage rate in January largely reflects the decrease in new joins. The rate is down from about 75 percent at the close of December but marks an improvement from a rate in the mid-60s at the end of Q3.
Rondeau said he believes Planet Fitness' messaging, which targets the casual first-time gym goer, has been favorably received, reinforcing that fitness is essential.
"The pandemic has negatively impacted people's physical and mental health, and we have the right environment in place to keep people motivated and robust protocols in place to keep them safe," said Rondeau. "This helped slow the decline in total members we've experienced as a result of pent-up cancellations after our stores reopened and resumed billing."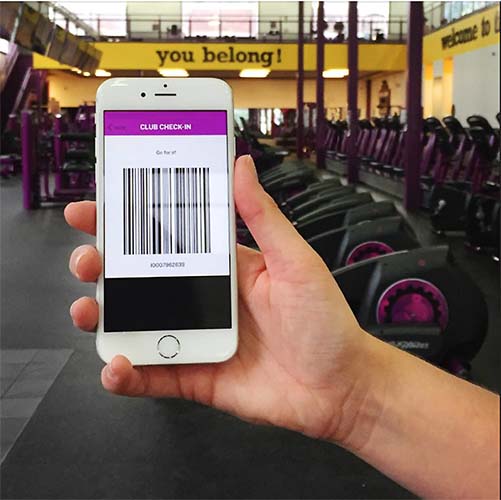 Planet Fitness App Among Most Popular Fitness Apps
Planet Fitness continues to accelerate digital efforts, and its app is ranked among the Top 3 downloaded apps in the health and fitness category for both Apple and Android. Currently, 40 percent of its total member base has adopted the app, and new joins' app adoption rate continues to climb, reaching 70 percent. Crowd Meter, which enables members to check the capacity before going to the gym, has been incorporated in the app to build on last April's launch of streaming virtual fitness content in a partnership with iFit.
The test of PF+, its $5.99 per month digital-only subscription via a mobile app, continues to be encouraging. More than 20 percent of PF+ subscribers are non-Planet Fitness members, and more than 20 percent have since become brick & mortar members in addition to their PF+ subscription.
Rondeau said the favorable trends reinforce Planet Fitness' belief that a stand-alone digital membership can serve as a gateway to traditional brick & mortar membership rather than a replacement. Rondeau added, "While consumers' adoption of digital fitness has accelerated, given the pandemic, I believe that the future of the fitness industry is about bricks with clicks, the powerful combination of providing a high-quality in-person fitness experience coupled with the complementary digital experience where consumers can experience the brand in the club and at home."
Competitive Closures Expected To Open Opportunities For Planet Fitness
Planet Fitness added 130 new stores for the year, in line with its most recent expectations but down from record openings of 261 in 2019. The vast majority of openings in 2020 were signed leases prior to the outbreak of COVID-19. New store openings are expected to be in the range of 75 to 100 for 2021 as franchises are proceeding cautiously on development until there is more certainty no further large-scale COVID-19-related temporary gym closures will occur.
Planet Fitness eventually expects franchisees to capitalize on the industry consolidation and more favorable real estate trends that are emerging. Rondeau noted that the industry has reported roughly 17 percent of U.S. gyms have permanently closed and IHRSA, the fitness industry's trade association, has predicted 25 percent of U.S. gyms and studios will permanently close as a result of the pandemic.
Rondeau suspects to see additional closures by competing gyms in the summer months as summer join rates come in. He noted that many would have to start covering deferred rent that had been deferred during the early month of the pandemic. He also said other clubs are more reliant than Planet Fitness on ancillary services such as personal training, the juice bar and daycare, which require steady traffic. He said, "I'm confident that Planet Fitness is well positioned to resume the growth trajectory the business was on at the start of 2020 prior to the outbreak once the pandemic is behind us."
Photos courtesy Planet Fitness