[ad_1]

Editor's Note: On April 14, 2022 at the ONC Annual Meeting the Missouri DMH LEAP team will share insight into their pilot demonstration and progress to go live with integrating health care and HCBS data.
Integrating data from health care and home and community-based services (HCBS) to improve health outcomes is of growing importance, especially as the U.S. population ages and the demand for long-term services and supports (LTSS) grows. A 2020 ONC Leading Edge Acceleration Project (LEAP) in Health Information Technology (Health IT) awardee, the Missouri Department of Mental Health (DMH) Division of Developmental Disabilities, seeks to address this issue.
The Missouri LEAP team focused on the use of the electronic long-term services and supports (eLTSS) Health Level Seven (HL7®) Fast Healthcare Interoperability Resources (FHIR®) Implementation Guide (IG) to implement and test the exchange of Missouri Individual Service Plan (ISP) information across provider IT systems. The capture, aggregation, and sharing of these data elements will support the design and implementation of a Supported Employment Value-Based Care Model, which focuses on promoting person-centered employment planning, training and instruction, job placement, and job development employment outcomes for HCBS waiver participants. Additionally, the HL7 publication of the eLTSS FHIR IG provides HCBS technology developers with a new opportunity to advance interoperability for populations served by HCBS.
During the September 2021 HL7 FHIR Connectathon, the Missouri LEAP team demonstrated the capabilities of the eLTSS FHIR IG by exchanging information from the state's case management system to a health information network, a supported employment provider IT system, and a primary care provider electronic health record. The Missouri LEAP team demonstrated that a high degree of interoperability among health and human service providers is possible and can support a vision for whole person and whole community care.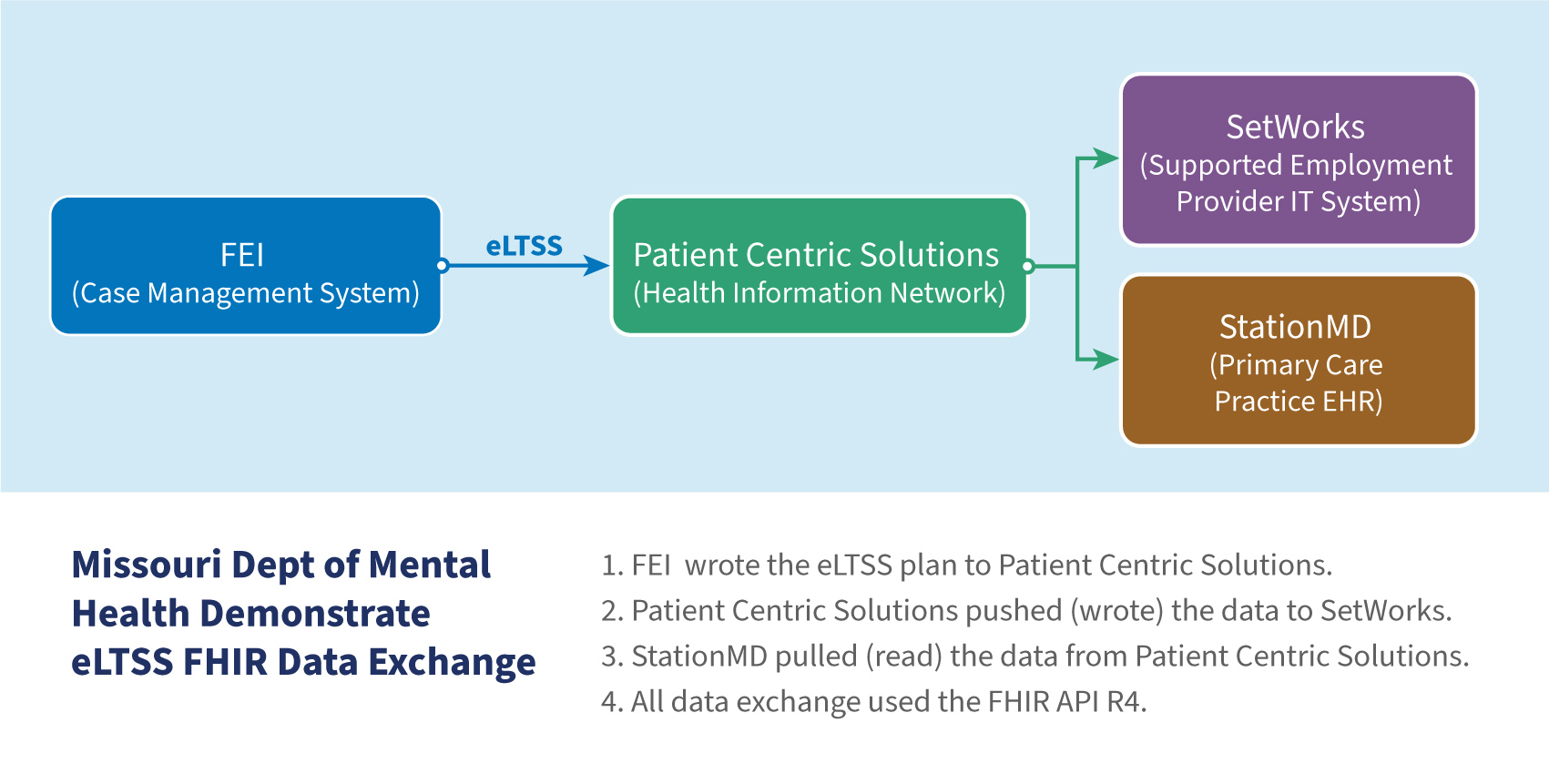 The exchange of Missouri's Individual Service Plan (ISP) data using FHIR is depicted above.
What's Next?
ONC is collaborating with the Centers for Medicare & Medicaid Services to create opportunities to advance interoperability in the HCBS sector. Ongoing work with public and private payers, states, and agencies partners will be instrumental in advancement efforts and we hope other states can begin similar projects to coordinate and advance the care individuals receive through HCBS.
The Missouri LEAP team will share their eLTSS FHIR IG pilot findings at the ONC Annual Meeting on April 14, 2022. Register for the virtual meeting here.
ONC would like to thank the Missouri Department of Mental Health for their support in developing this blog post.
Useful Resources/Links
Missouri Department of Mental Health, LEAP Grant
Missouri Value Based Purchasing HCBS Quarterly Stakeholder Update
Intellectual and Developmental Disabilities – An Opportunity for Improved Care Coordination
[ad_2]

Source link